I was recently asked about gear I use when shooting, what to bring, and what to leave behind. I put together a brief article going over my current list and style for people.

Last year I took a multi-day landscape photo workshop in Northern California around Mono Lake. I learned a number of things during the workshop. Unlike people, landscapes don't run away from you, but they do ask you to get up early to take their pictures.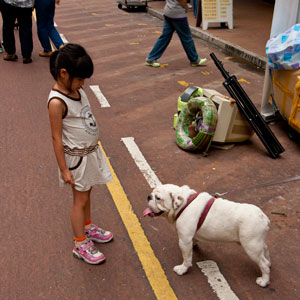 On the first day of the workshop, we drove a couple carloads of photographers to the lake for a shoot. Upon arriving, I grabbed my shoulder bag that I carry everywhere when shooting for travel.  As I started to walk away from the car, pulling out my camera, I noticed that most of the other photographers were pulling large tripods and bulky backpacks from their cars.
At this point photographers who already shoot landscapes would say "So what is your point? Of course you need a large stable tripod to shoot landscape." As someone who shoots mostly street and travel photography the idea of lugging around a huge tripod and a backpack is foreign to me.
This issue came up again recently when I was asked by another photographer what gear I carry and use when shooting on the street. I realized that much like the huge tripods, backpack, and large lenses that are foreign to me, the concept of how to shoot street photography was perhaps foreign to non-street photographers.
Street photography, to me, is about waiting for the perfect time. It is also about being able to shoot a picture when the perfect time presents itself and you aren't ready. This requires you to be extremely comfortable with the technical settings of your equipment. Simplifying down choices to be made as much as possible, allowing you to reduce your decision making process to framing and when to snap the shutter when the time comes up, without having to worry about all the other technical bits (like focus, depth of field, and even proper exposure). It also means wandering around streets and areas that are potentially crowded with people, for hours at a time. And lastly, it means being unobtrusive, so that you "fit in" in the crowd and people ignore you, rather than interact with you.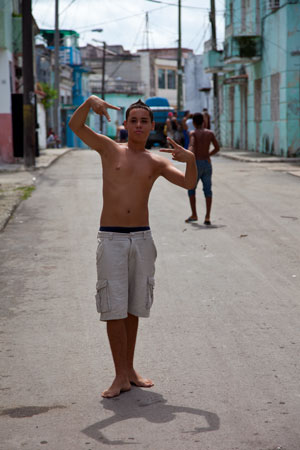 Examining these requirements, you'll quickly see why many street photographers used small, unobtrusive fixed lens cameras to shoot on the street. Street photographers have to be able to move about easily. The fewer things to adjust, zoom and shutter speed, the better. Also less gear means little risk of shoulder/neck strain after a day of work. This may not be for everyone, and is definitely not a requirement, but keeping things simple helps.
My travel kit is a Domke F2 shoulder bag, with a Canon 5Dmk2, 15mm Fisheye, 17-40 F4L, 24-105 F4L, and a 80-200 f2.8L lens. I also have a small pile of accessories stuffed in it, flash, sunglasses, GPS logger, notepad/pen, lenspen, extra camera batteries, cleaning cloth, map or small guidebook, and usually a protein bar or similar snack. The bag with all of this stuff is relatively compact, but also dense, and heavy for long time walking.
Before I go out for a half day of shooting I remove lenses from the bag. This takes some practice, it took me a number of years to stop thinking I needed to take the kitchen sink out with me, instead trying to keep things simple. The 80-200 is a couple pounds and usually comes out unless I'm highly confident I'll be using it. The flash is removed for the same reason. I try to only take the 17-40 or the fisheye for a wide angle shots. This should leave me with the camera with one lens mounted, and another in my bag. If I take the 80-200 I try to limit my other choice to the 24-105 or the 17-40.
The results of all this paring down is a light weight bag that can hold your equipment, and lunch, as needed. Your bag is not much larger than a medium sized purse, and easy to maneuver around crowds without too much difficulty. The biggest thing to remember when deciding to add something into your bag, is that if you are questioning it's usefulness, you probably should leave it in the car/house/hotel.
Once out with your gear, you want to be familiar with your camera settings. Pre-set your aperture and ISO settings, and make sure any focus-point settings are known, you want to spend time taking pictures, not adjusting settings if an opportunity presents itself. This may seem simple, but you want to be able to capture the moment, and if you have to move a focus point, the moment may have changed.
Finally, like all things, practice and experiment, and follow it up with review at home. See what worked and what didn't. And the go out and shoot again.
-Matt